Image Slide 2
Feed and process technology
Image Slide 2
We offer service in a large number of areas
Image Slide 2
Large number of spare parts in stock
Who we are

Gema-tec a/s is a production and service company who since 1998 has delivered product knowledge and optimized solutions to existing and new process lines within the food and feed industry. As a result of our experience and long-term presence in the market, Gema-tec a/s is today amongst the leading companies in our field.
Gema-tec a/s develops and manufactures customized solutions, regardless of whether it is a single machine or a complete process plant. Our service department offers quick deliverance of spare parts along with service and maintenance of existing machinery for the following core areas:
Service & maintenance areas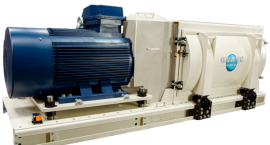 Hammer mill NuEvo FG 1500 is a newly developed finegrinding hammer mill from GEMA-TEC A/S.