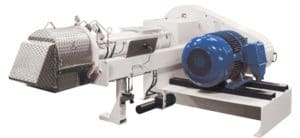 Feed expander FEX 34:
Increased addition of liquid, fat or the like. oil, molasses for the feed mixture without compromising the quality of the pellets
Effectively removes bacteria by heat treatment
Improves the homogeneity of the feed mixture
Improves pill quality
Less crumbs
Can be used on all types of pills
Optimizes the production process
Increases the digestibility of the feed pellets
Quantity: 2 pcs.
Brand: Andritz (Sprout-Matador)
Type: FEX 25
Capacity: 4-12 tph
Engine: 160 kW
Application: Heat treatment of flour
Suitable for: Process lines with pelleting of Traditional feed.
More information, call +45 7586 8015